BALTIMORE, Md. — Attorneys are still sifting through evidence in an alleged nationwide moving scam that defrauded 900 people.
In a joint status report filed last week, the government wrote that there's "voluminous discovery" in this case, and a trial date has not yet been set.
The government has provided defense attorneys with close to seven terabytes of data, which includes 80 forensically imaged computers, multiple email accounts, bank records, corporate and customer files and documents, and evidence seized during search warrants of multiple warehouses around the country where customer's goods were being stored.
There has been some progress. Since the indictment last July, federal agents helped recover 200 customers' belongings from warehouses and storage units throughout the country.
Last year, 12 people were charged with conspiring in a racketeering enterprise to defraud customers through their moving companies. According to federal officials, the movers would give low binding estimates, load up the moving trucks, then demand more money. If customers didn't pay, they'd hold their stuff hostage.
RELATED: Maryland movers charged, accused of defrauding 900+ customers
WMAR-2 News Mallory Sofastaii spoke with dozens of victims who tried for months to get their things back.
Investigators believe the scheme dates back to 2013. When the moving company would develop a bad reputation, the defendants would change the name of the company and file for a new license. The defendants have been tied to 14 moving companies in 10 states. They include: First National Moving and Storage, Flagship Van Lines, Independent Van Lines, JBR Underground, National Relocation Van Lines, National Relocation Solutions, Presidential Moving Services, Public Moving and Storage / Public Moving Services, Smart Relocation Solutions, Trident Auto Shipping, Unified Van Lines, United National Moving and Storage, and US Relocation Systems.
Eight of the twelve individuals accused have been arrested. The other four are considered fugitives.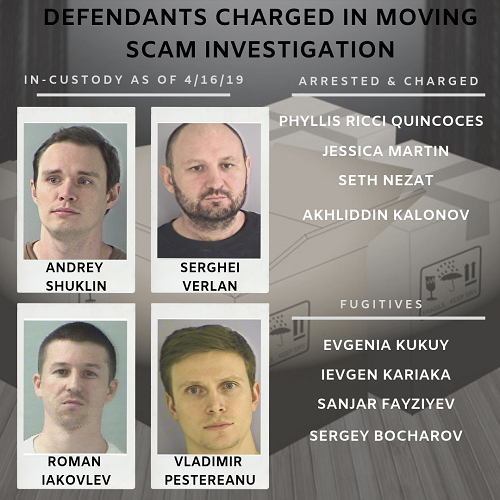 RELATED: Ex-employee of alleged nationwide moving scam comes forward
Four people are still being held at the Butler County Jail in Ohio, including the alleged mastermind of the operation, Andrey Shuklin. Last November, Shuklin's attorney filed a second motion requesting the judge release Shuklin on bond. The motion is still pending.
WMAR-2 News reached out to the U.S. Attorney's Office for the Southern District of Ohio for comment but did not immediately hear back.
To learn more about how to choose a reputable mover, click here.