Anne Arundel County Police say DNA found inside a home in Odenton helped link them to a killer from a shooting investigation in February 2010.
"This sounds like a simple process," said Anne Arundel County Deputy Chief Bill Krampf. "It is not. It's very difficult to work an eight-year-old case and bring it to fruition with an arrest."
24-year-old Michael Temple, Jr. was shot during a home invasion and died from his injuries in June 2015.
On Friday, police announced Fredrick Frampton and Johnathan Ludwig were allegedly responsible for his death. Frampton is being charged with murder, Ludwig has since died.
During the initial attack in 2010, Temple tried fighting back against his attackers and was able to injure one of them, leaving DNA behind at the scene. Temple was shot that day and survived, but was bound to a wheelchair for the next five years until he died.
In 2015, officials declared his death a homicide and that is when cold case investigators reached out to Parabon NanoLabs in Virginia for help. Taking the suspect's DNA from the crime, their technology was used to create a phenotype report which you can see below.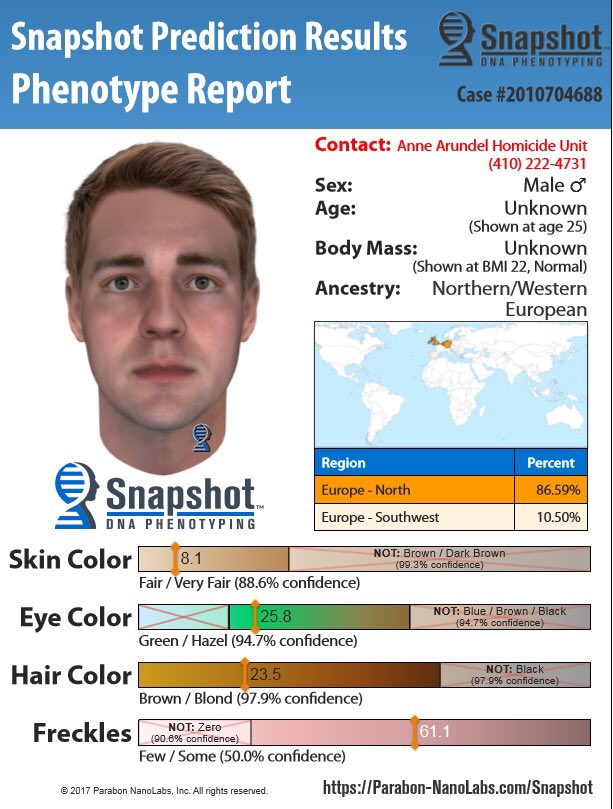 That report helped police identify what their suspect would look like, with the hope it would ultimately lead the suspect's arrest.
Unfortunately, no one stepped forward able to identify a suspect from the picture. But Anne Arundel County detectives stayed abreast of advancements in DNA forensics, and in 2018 they explored the use of genetic genealogy, technology Parabon also employs, as a way to find the killer.
"They actually ran the DNA through the GE DNA database that they use," said Anne Arundel County spokeswoman Jackie Davis said. The screening produced a match, and Parabon alerted detectives that Frampton was their likely suspect.
Using covert surveillance, detectives "surreptitiously took multiple DNA samples from him," Davis said. "Those DNA samples were given to our DNA lab, who matched them with the DNA left at the scene of the shooting. Our DNA lab said, 'Yes, we have a match.'"
RELATED: Virginia-based DNA tech company may help solve Anne Arundel cold case
For five years, Michael's parents watched him suffer through the pain. His father, Michael, told WMAR-2 News Skyler Henry he's lost for words after learning someone he used to work with, Fredrick Frampton, was tied to his son's death.
SEE ALSO: Blood spatter may link killer to Odenton cold case
Frampton is being held without bail and had his bail review Friday morning. Anne Arundel County State's Attorney Wes Adams said he will bring evidence against Frampton to a grand jury for indictment, and Frampton is likely to have an initial hearing within 30 days.
"If it was not for the tenacity of our cold case homicide detectives and their knowledge of what technology was available to them in terms of closing cases," said Davis, "this case may not hav been solved."