BALTIMORE — Drivers are finding out it could take several days to a few weeks to retrieve their car after it's been towed.
Due to the pandemic, the Baltimore City Towing Division changed its vehicle retrievals process and closed all impound facilities to the public.
On July 10, Stephanie Apostolou's car was towed while she was at work in Hampden. She went to the impound lot on Pulaski Highway to pick it up, along with her personal belongings in the trunk, but was denied.
She called the four phone numbers posted on the door until she got through to someone.
"They started telling me how this was going to be a two-week process and it's going to cost me over $700," said Apostolou.
Pre-pandemic, drivers could pick up their car the same day it's towed. As of the spring, the process has drastically changed.
Vehicle retrieval process during the pandemic
First, the vehicle owner must contact the Department of Transportation's Towing Facility by phone and then send DOT the necessary documents to the email address provided.
If there are any 'open' citations associated with the vehicle, they must be paid online before the vehicle is released, which can take 48-72 hours to clear.
Once the citations are cleared, DOT fills out a payment invoice that is sent to the Parking Authority and uploaded into the DocuSign system.
The vehicle owner then receives the DocuSign link for payment processing and once its completed by the customer, DOT will receive the payment confirmation via email.
The vehicle owner will then be contacted by DOT to schedule an appointment date/time for vehicle retrieval at the Pulaski facility.
Vehicle retrieval times are much shorter if there are no outstanding citations involved, according to DOT.
The City is currently not charging daily storage fees, however, drivers will need to pay for towing ($130 for vehicles east of Charles Street and $140 for vehicles west of Charles Street), administrative fees ($40), and a one-time impound fee ($50).
"How can it be? How can it be that they can't let you in your car, near your car to get your personal belongings, or even have the right to hold your car for that long? So I called you, Mallory," said Apostolou.
Already a week and a half into the process, Apostolou had hit a wall.
WMAR-2 News Mallory Sofastaii contacted the Baltimore City Department of Transportation, which helped expedite things, but there were speed bumps slowing down the convoluted process.
According to a DOT spokesperson, Apostolou's ticket didn't show up online until 72 hours after the incident because it happened on a Friday afternoon.
After Apostolou paid the citation on July 14, the payment didn't process until July 21.
"The online payment process is done through a 3rd party vendor and we are working with them to determine what caused the delay," a DOT spokesperson wrote in an email to Sofastaii.
In the meantime, Apostolou spent another $300 on a rental car so she could keep going to her job.
"And the fees and everything that's $1200 and a lot of people don't have that," said Apostolou.
Corey Lambert's son's car was towed on July 21.


"My son got into an accident, his car was totaled," Lambert said.
Lambert contacted Sofastaii on August 6. He'd already been waiting 16 days to find out when the insurance company could retrieve the car from the Baltimore City impound lot so they could move forward with the claim.
"He's trying to get a new car so he can go back and forth to work but them holding the vehicle is just holding everything back," said Lambert. "I understand that you have to take safety measures, but we're dealing with an impound."
Sofastaii met George Solas at the Pulaski Highway impound facility. Solas was also trying to retrieve his car after it was towed for a parking violation.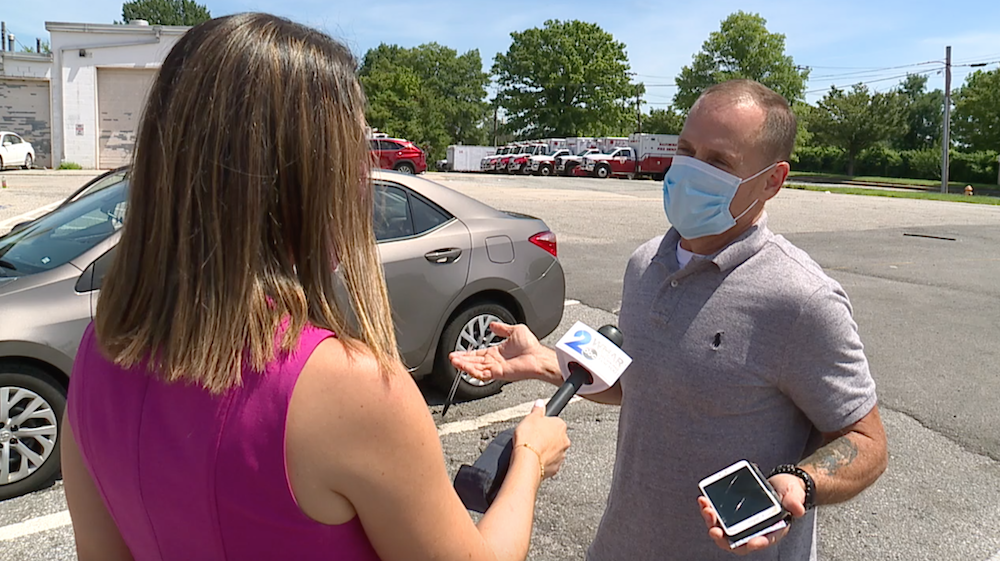 "They're holding my car against my will for no reason," said Solas. "We try to call them and no one answers the phones. I mean this is the 2nd week."
In an emailed statement, the Department of Transportation wrote:
"DOT has suspended the majority of its towing operations due to the pandemic, and now only tow for major safety violations. Every situation concerning impounded vehicles is unique, and the retrieval process includes online customer interactions which affect how quickly vehicles are released. To expedite vehicle retrievals, we have set up two additional off-site locations to provide added customer service and vehicle processing support."
The COVID-19 pandemic has impacted trash pick-up, mail delivery, all kinds of government services, but access to a car can be a vehicle to making money, and Apostolou, Lambert, and Solas feel if the City can't fix this broken down system, then put the brakes on towing.
"It's just a travesty and for those who really don't have access to money, a credit card, a friend, a help, a son, a relative to get them around, to help them in a middle of a pandemic, this is just horrible," said Apostolou.
Despite photos of the infraction, Apostolou doesn't agree she violated the law and plans to appeal the citation.