BALTIMORE — A man was shot and killed after getting into a dispute with a squeegee worker Thursday afternoon near the Inner Harbor.
Around 4:30 p.m., near the intersection of Light and Conway streets, police said after some sort of altercation with a squeegee worker in Downtown Baltimore, a man got out of his car and took a swing with a baseball bat.
That's when officers say the 48-year-old man, who police identified Friday morning as Timothy Reynolds, was shot by a squeegee worker. He died at a local hospital.
Crime lab techs investigate Inner Harbor shooting
Police said that after an interaction became heated, Reynolds parked his car and got out with a bat.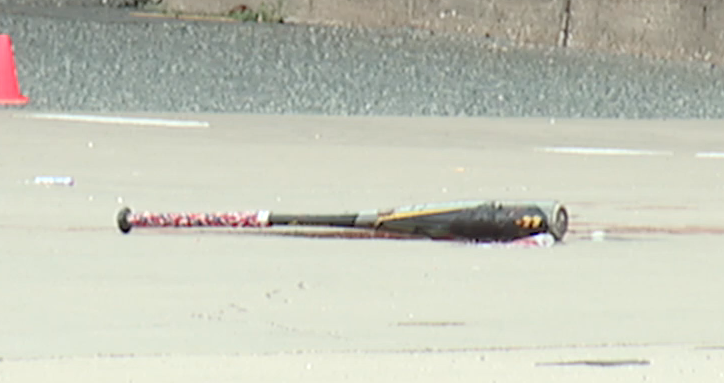 He swung the bat at one or more of the workers and as a result he was shot.
"He drove through the intersection and parked, but got out of the vehicle crossed back over to the other side of the street, reengaged with one or more of a squeegee kids, attempted to strike them by swinging the bat at them, and at some point, a person, somewhere in the group pulled out a gun, fired, striking him," Police Commissioner Michael Harrison said.
The shooting took place not far from Camden Yards, where the Orioles were hosting the Los Angeles Angels.
"My boyfriend heard what he thought was a firework but apparently it might've been gun fire," Jolene Allen said.
Police commissioner speaks on shooting involving squeegee worker
Thursday's altercation was just the latest incident surrounding Baltimore City's squeegee worker culture and drivers.
"Why chase him with a bat when you don't know what anyone has, like what? A bat? A bat is not for combat. It's for baseball," said Tosha Bazemore.
Hours before the shooting, Baltimore officials were in the same area trying to get squeegee workers of the streets.
"The mayor's office of African male engagement was out here with their entire team," Harrison said. "They were conducting outreach, handing out resources, connecting young men to other opportunities. That was happening at this very intersection."
Still, people wonder had the individuals involved acted differently someone would still be alive.
"I feel like I feel like this could have really been avoided," Bazemore said. "Every reaction, everything doesn't deserve a reaction, it's not necessary. Let some stuff go."
No arrests have been made.
Baltimore Mayor Brandon Scott responded to the shooting:
"This is an active investigation. As the facts become clear, my office will share updates.

I want to be very clear – if you are on the streets of Baltimore and endanger the safety of others or turn to violence to solve your problems, we will hold you accountable.

Regardless of what caused this incident, it is a sad reminder that far too often easily avoidable confrontations escalate into acts of violence.

Through enforcement and engagement, we continue to work with BPD and other partners to deter young people and adults from being involved in conduct that puts lives at risk."


Baltimore Mayor Brandon Scott
State's Attorney Marilyn Mosby released the following the statement on the incident:
"I am completely dismayed at the heinous act of violence that occurred this afternoon. As this is an open and pending investigation, there are limits to what I can say, but I want to be unequivocally clear that today's episode is completely unacceptable and should serve as a flashpoint for our entire city. There are too many guns on our streets and those who willingly turn to violence as a means of resolving conflicts will be held accountable to the fullest extent of the law."


Marilyn Mosby
Baltimore Councilman Eric Costello went on social media to condemn the City's violence.
"The level of violence in this city is simply unsustainable," Costello said. "Two lives were destroyed today and one person is dead because we have failed to adequately address this situation. As a government, we have failed everyone here by allowing these circumstances to continue to occur."
"I again call on BPD leadership to ensure enforcement of the laws already on the books that prohibit this illegal activity, immediately."
This incident happened ahead of a job fair that was aimed at squeegee workers on Friday.
You're looking at intersection of Light Street & Conway.

Police confirm there was an altercation between a driver & squeegee worker.

Driver went through intersection, got out of vehicle w/ bat & started swinging.

Someone in squeegee group shot driver.@WMAR2News pic.twitter.com/TlfdSMzcG7

— Dave Detling (@WMARDave) July 7, 2022
READ MORE: Job fair aimed at squeegee boys starts this week
Just three hours earlier, police were called to the same Baltimore intersection.
Shortly before 2 p.m., officers responded to the 100 block of East Conway Street after a 41-year-old man said his car was damaged by a person acting as a squeegee worker.
That man then confronted the squeegee worker, who pointed a gun.
Police identified and arrested the 18-year-old and officers took a BB gun away.
Councilman Zeke Cohen also wrote a letter to the Mayor asking for something to be done about the ongoing issue.

If anyone has any additional information, they are asked to call Metro Crime Stoppers at 1-866-7LOCK-UP.