ANNAPOLIS, Md. — Governor Larry Hogan and State Education Superintendent Karen Salmon are calling on all Maryland school systems to return to in-person or hybrid instruction by March 1.
The two have written to teachers union leaders asking for their cooperation.
Thus far the unions have resisted similar calls, and in some cases have threatened to sue if schools forced teachers back.
Hogan cited other states who've cut pay and revoked licenses of teachers refusing to return to work, and said he hopes to avoid any similar action in Maryland.
In making his case, the governor quoted the American Academy of Pediatrics who said, "Children absolutely need to return to in-school learning for their healthy development and well-being."
The state says there's evidence that children are falling behind in some subjects. They say research shows school closures could cause students to suffer depression and anxiety symptoms, which many are already experiencing.
The Governor said he expects teachers to return to the classrooms whether they've received the vaccine or not.
He highlighted $780 million in federal relief that went to schools to address COVID-19 concerns, and a large supply of PPE.
The State Board of Education has put out guidance on how schools should ease back into the classroom.
Below is a chart breaking down the state's recommendations in two options.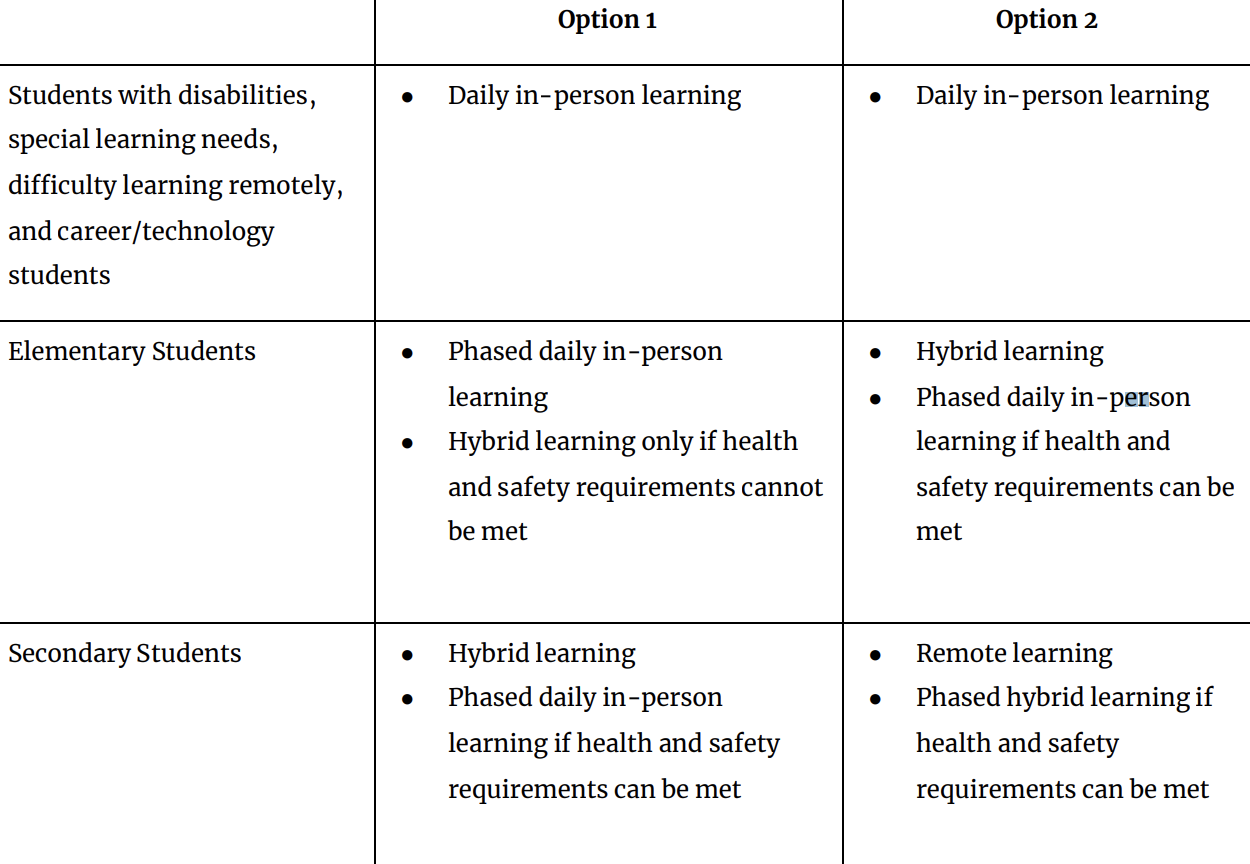 Since the beginning of the pandemic, Maryland has reported 119 school outbreaks.
The median number of cases among those outbreaks is three, according to the Maryland State Department of Education.
Read the state's full report below.
Baltimore City Public Schools responded to the Governor with the following statement:
"City Schools staff desperately want to be back in buildings working with children in person, the work we're passionate about and have dedicated our lives to, but only when it's safe. Baltimore City's positivity rate and case rate exceed the thresholds set forth in the state's own guidance on school reopening decisions. Our facilities have not completed their ventilation upgrades and our staff have not been vaccinated. If the Governor is serious about solving the inequities exacerbated by the pandemic and getting students back into school buildings, he can focus on accelerating the vaccine rollout and getting City Schools the resources they need to create healthy learning environments."
Baltimore County Public Schools released this statement:
"Baltimore County Public Schools has a plan to return students to in person learning and provided an update during last week's Board of Education meeting. Our goal has always been to get students and staff back into schools as soon as it is healthy and safe to do so. We have been following guidance from the Maryland State Department of Education and the Maryland Department of Health based on health metrics for Baltimore County. We will review today's announcement and adjust our reopening plan accordingly."
The Coalition of Maryland Parents and Students as well as 13 organizations which represent thousands of parents from Allegany, Anne Arundel, Baltimore, Calvert, Carroll, Cecil, Frederick, Harford, Howard, Montgomery, Prince George's, Wicomico, and Washington Counties issued a statement in response to Hogan's pressure campaign to reopen schools.
"We have watched as our kids have suffered severe academic loss, declining grades, social isolation and an increase in mental illness. Last week, in desperation, we turned to Governor Hogan for help, and he listened, and in the past 24 hours we feel incredibly hopeful for our kids. We strongly commend Governor Hogan for his leadership and commitment to both education and public health. He understands that the mitigation methods being used successfully in 44 states – masking and social distancing – can be used in Maryland, and he has granted our school districts the resources they need to make it happen. We call on our Boards of Education to heed the bipartisan calls from both state and federal leaders today, and in days, not weeks, take action to make this a reality. The time is now, the stakes couldn't be higher for our kids."