Photos: Flood waters rise in North Carolina ahead of Florence
Despite Hurricane Florence remaining offshore on Thursday, storm surge and heavy rain caused flooding throughout North Carolina, especially near the coastline and along rivers.
Rescue workers from Township No. 7 Fire Department and volunteers from the Civilian Crisis Response Team use a truck to move people rescued from their flooded homes during Hurricane Florence September 14, 2018 in James City, United States. Hurricane Florence made landfall in North Carolina as a Category 1 storm and flooding from the heavy rain is forcing hundreds of people to call for emergency rescues in the area around New Bern, North Carolina, which sits at the confluence of the Nueces and Trent rivers.
Photo by: Chip Somodevilla
RIVER BEND, NC - SEPTEMBER 13: The Trent River (background) overflows its banks and floods a neighborhood during Hurricane Florence September 13, 2018 in River Bend, North Carolina. Some parts of River Bend and the neighboring New Bern could be flooded with a possible 9-foot storm surge as the Category 2 hurricane approaches the United States. (Photo by Chip Somodevilla/Getty Images)
Photo by: Chip Somodevilla
NEW BERN, NC - SEPTEMBER 13: Michael Nelson floats in a boat made from a metal tub and fishing floats after the Neuse River went over its banks and flooded his street during Hurricane Florence September 13, 2018 in New Bern, North Carolina. Some parts of New Bern could be flooded with a possible 9-foot storm surge as the Category 2 hurricane approaches the United States. (Photo by Chip Somodevilla/Getty Images)
Photo by: Chip Somodevilla
NEW BERN, NC - SEPTEMBER 13: Men pack their belongings after evacuating their house after the Neuse River went over its banks and flooded their street during Hurricane Florence September 13, 2018 in New Bern, North Carolina. Some parts of New Bern could be flooded with a possible 9-foot storm surge as the Category 2 hurricane approaches the United States. (Photo by Chip Somodevilla/Getty Images)
Photo by: Chip Somodevilla
NEW BERN, NC - SEPTEMBER 13: Men pack their belongings after evacuating their house after the Neuse River went over its banks and flooded their street during Hurricane Florence September 13, 2018 in New Bern, North Carolina. Some parts of New Bern could be flooded with a possible 9-foot storm surge as the Category 2 hurricane approaches the United States. (Photo by Chip Somodevilla/Getty Images)
Photo by: Chip Somodevilla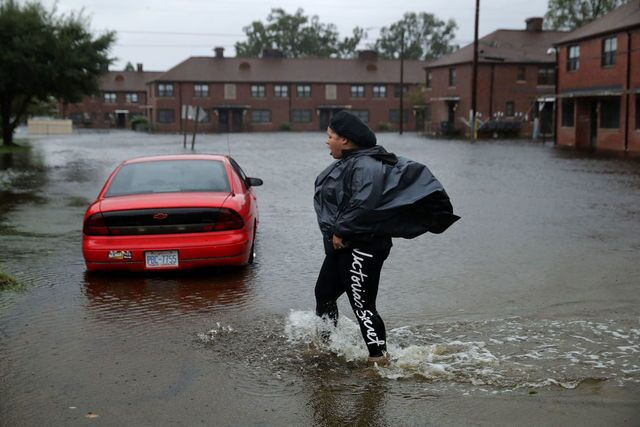 NEW BERN, NC - SEPTEMBER 13: Residents try to prepare for more floodwaters at the Trent Court public housing apartments after the Neuse River went over its banks during Hurricane Florence September 13, 2018 in New Bern, United States. Coastal cities in North Carolina, South Carolina and Virginia are under evacuation orders as the Category 2 hurricane approaches the United States. (Photo by Chip Somodevilla/Getty Images)
Photo by: Chip Somodevilla
NEW BERN, NC - SEPTEMBER 13: Michael Nelson floats in a boat made from a metal tub and fishing floats after the Neuse River went over its banks and flooded his street during Hurricane Florence September 13, 2018 in New Bern, North Carolina. Some parts of New Bern could be flooded with a possible 9-foot storm surge as the Category 2 hurricane approaches the United States. (Photo by Chip Somodevilla/Getty Images)
Photo by: Chip Somodevilla
NEW BERN, NC - SEPTEMBER 13: Residents wade through deep floodwater to retrieve belongings from the Trent Court public housing apartments after the Neuse River went over its banks during Hurricane Florence September 13, 2018 in New Bern, United States. Coastal cities in North Carolina, South Carolina and Virginia are under evacuation orders as the Category 2 hurricane approaches the United States. (Photo by Chip Somodevilla/Getty Images)
Photo by: Chip Somodevilla
RIVER BEND, NC - SEPTEMBER 13: A truck drives through deep water after the Neuse River went over its banks and flooded the street during Hurricane Florence September 13, 2018 in River Bend, North Carolina. Some parts of New Bern could be flooded with a possible 9-foot storm surge as the Category 2 hurricane approaches the United States. (Photo by Chip Somodevilla/Getty Images)
Photo by: Chip Somodevilla